Hello and welcome to today's Adobe Express Review. I've been using it for some time and thus feel qualified enough to voice my opinion regarding the platform. We will take a look at the most commonly asked questions, their features, and pros and cons to help you decide if it would be the best option for your next project.
Sharing is caring so please give it a like if you feel that it is likable or leave a comment below as your opinion is even more valuable and would be appreciated.
Now let's get started…
Website
Operating System and Platform
IOS, OS X, Windows, Android
iPhone, iPad, Web, Android
Developer
Adobe Systems
What is Adobe Express?
It is a web-based tool that you can use to create social media graphics, web pages, short videos, banners, landing pages, and so forth. No download is required and your projects can be synced across multiple devices. The platform has a wide variety of tools available that include themes, text, animation, templates, logos, and design filters, to only name a few.
To sum it up, the platform is ideal for:
Single-page projects like landing pages, stories, newsletters, announcements, and so forth
Catalogs or product pages
Creating banners, advertisements, headers (see the top of my website), website graphics, and so forth.
Creating a portfolio or online CV
Banners for social media profiles/pages/groups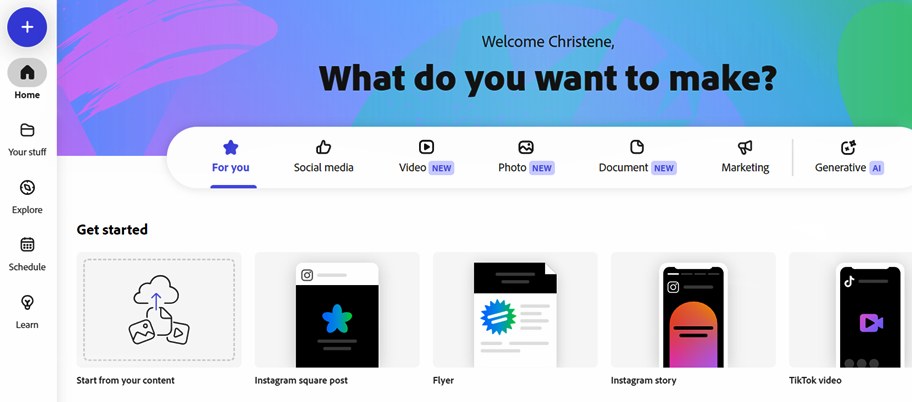 Pricing
Starter Plan – Free
Education Plan – Free or use Student code
Full versions can be purchased via two options:
By purchasing an Adobe Creative Cloud paid plan on adobe.com
Or
Individual – Free for 30 days, $9.99 monthly thereafter, or $99.99 prepaid annual.
User Interface and Ease of Use
The platform is beyond user-friendly and the tools are organized in a neat fashion that makes for easy navigation. The tools are based on the features of Photoshop and InDesign, yet, unlike these, you do not need a degree to figure out Adobe Express. Express is basically a simplified version that will enable those without experience in design software to create professional-looking graphics, videos, landing pages, and so forth in no time.
You can also opt for "Glideshow", a feature that will give scrolling parallax a smooth feel and make your text, video, and images flow smoothly.

Adobe Branding on Projects
If you use the free version of Adobe Express your content will be branded with the Adobe branding logo. To remove the branding, you will need to upgrade to a paid creative cloud account, which is fair considering the quality of the tools. For some, this will obviously be a problem, for others not so much. I personally do not mind the logo and actually prefer it on some of my content. Also, the branding is small, professional-looking, and does not cover any content.
If you are going after maintaining a brand experience, it would be best to upgrade and get it removed completely.
What about Help and Support?
Adobe offers help in the form of Email, a help desk, and chat. In addition, there is also a "knowledge base" that will cover most questions you might have. Support is responsive and helpful. In addition, there are tutorials to help familiarize yourself with the platform.
Adobe Express Review – Key Features
Video – Create videos from scratch or choose from a template. The platform includes a collection of background soundtracks that can be used and a voiceover feature that allows you to record your own audio.
Support "Square" Video – When it comes to social media, square video formats (1:1 ratio) rule and have better engagement/reaction than landscape formats. With Adobe, it is easy to create such videos for Facebook, Twitter, IG, and so forth.
Wide Variety of Templates – When it comes to niche marketing, it is always a hassle to find the perfect theme, I found Adobe Spark to be one of the best when it comes to covering almost every niche. In addition, I am beyond picky and usually, look for something specific and do not settle for anything else. Spark is usually where I end up satisfying my picky nature. In addition, templates can be modified to give them a unique style.
Live Photos – Support for Apple's "live photos". They can be used as background images and such, beyond cool as not many other apps or software support this feature.
Images – Use your own images or choose from a HUGE variety of royalty-free images and icons available to you.
Hosting – The pages that you build are hosted by Adobe, so yes, hosting is included.
Express Page – This is the single-page website builder also known as the "story builder" or Landing page builder. This tool will enable you to build a single-page site and you can combine media elements like adding video, animation, text, graphics, and so forth. The tool is intended to create magazine-style web stories but can be used as a standalone one-page website as well. Keep in mind, if you plan to build a full-scale website with different pages and menus, this is not the tool and it would be better to go the WordPress route with a reputable hosting provider.
Why Premium?
Make your content stand out with more expensive designs and unique templates.
Stay on a brand by adding your own logo, colors, fonts, and such. Branded themes are made just for you.
Transform projects into your own branded version with Brandify.
Collaborate with others to finish a project faster by project sharing.
Express Premium – Key Features
Branded templates and themes made just for you
Remove the Adobe watermark from all your projects
Access to the complete library of Adobe premium fonts and templates.
Reassign licenses at any time.
Dedicated phone support, chat, email, and forums.
Create on both web and mobile.
Manage, create, and share assets with CC Libraries in Express.

Adobe Express Review – Pros
A platform that is beyond user-friendly, easy to use, and accessible for all. You don't have to be a tech genius to create awesome content.
The free version can DO A LOT!
Comes with pre-loaded themes and templates that make it easy to create an ad, page, or video in no time.
Direct access to royalty-free stock websites that have been integrated. Huge variety of images to choose from if you do not have your own.
Adobe Express is available for free to students and schools, and it includes some of its premium features.
Provides examples of projects if you lack inspiration and need ideas.
Express allows you to export graphics as PSD files in layers.
Adobe Express provides tools to create YouTube banners and so forth, providing needed tools for YouTubers.
Cons
Brand logo on your projects if you use the free version. Not a con per se, it is still a company that needs to make money. However, if you are into branding and keeping it unique, you might want to upgrade to get it removed.
Conclusion Drawn from Own Experience…
Adobe Express is in my opinion the best way to create high-quality graphics, video, and landing pages if you are on a budget. The user interface is easy to familiarize with and the tools are organized neatly without overlapping your project severely.
We are living in the information and technology age and it is not a bright idea as a small business owner, not to have "something" online in this day and age. I do a lot of "business consulting" and Express is my go-to when I recommend a one-page website for small businesses to get them online. Not only does it look professional but it is easy to use and super cheap compared to WordPress hosting, and other landing page builders. Obviously, if you have a big business with lots of information, you might rather want to go the WordPress route and just create a website.
When it comes to creating graphical content for my Blogs and Websites, I am full of nonsense and particular about what I want. Usually, I go for plain, classic looks and something modern and clean-cut. In all honesty, Adobe Express is usually where I end up at the end of the day. Even their branding looks classic compared to many other platforms.
Do You Use Adobe Express or Used it in the Past?
Please be so kind as to tell us about your experience to avoid this review being just another one-sided opinion. It would be much appreciated!
Thank You. Have Yourself an Awesome Day!