Have a sluggish PC that is not performing well and no time to clean it manually? Advanced SystemCare supposedly solves that problem with their all-in-one tool that does the work for you. It comes with all the tools to help you save time and obviously a computer that is well taken care of. Is the hype worth it and is it any good for the well-being of your computer? With this Advanced Systemcare Review, we will have a look at the features, pros & cons and also include my own user experience.
Website
What is Advanced SystemCare?
ASC is an all-in-one program from IObit that cleans, speeds up, and protects your Computer. It has a 1-click approach that will clean up invalid shortcuts, and junk files, remove spyware threats, manage startup items, sweep privacy traces, fix system weaknesses, and accelerate internet speed to only name a few. Most people will manage these themselves by using the tools that come with Windows, but this is time-consuming and one will most likely miss something. ASC does all of these tasks with only a few clicks.
How Does It Work?
Download the setup file from the official IObit website and Install it on your computer. The Startup Manager and Tubo boost will stop all the unnecessary apps, services, and startup items to accelerate your PC. The performance monitor will monitor CPU, RAM, and Disk usage as well as the CPU and mainboard temps. A scan will check for broken registry entries, temporary files, unnecessary startup processes, and broken shortcuts, to only name a few. Other options that can be included in a scan are system optimization and registry defrag (Not for those with an SSD).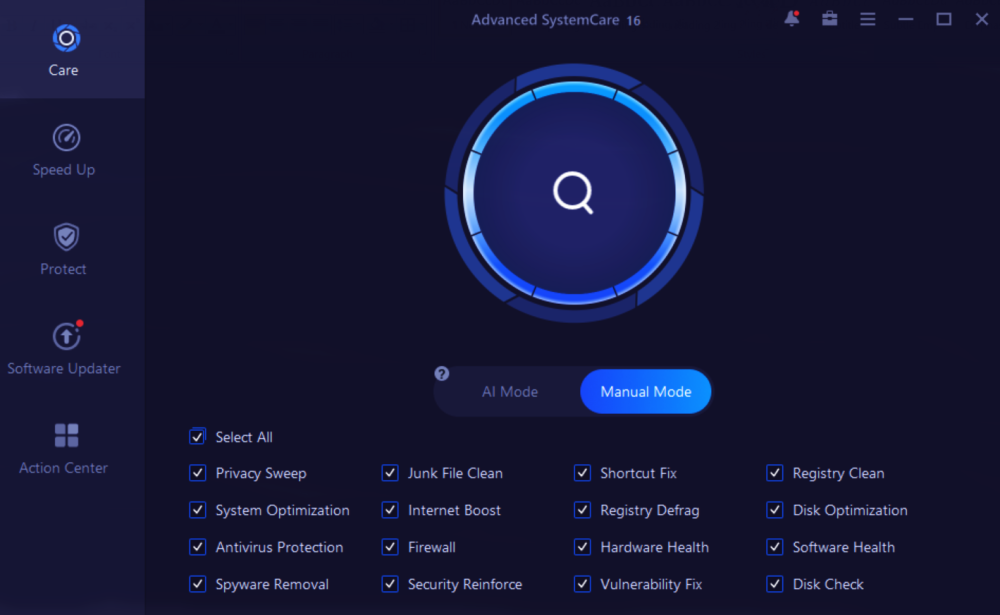 What About the Free Version?
Advanced SystemCare's free option includes all the basics like optimization, scans, performance monitoring, and start-up Manager. In my opinion, it can be listed as one of the top free programs when it comes to PC maintenance. I've been using Pro and the free version and can honestly say that the free version is just as good with the only difference being added features in the paid versions.
How Stable/Safe is the Program?
I have been using Advanced SystemCare on my computers for about 10+ years on Windows 7, 8, and 10, and never had major issues with it. A lot depends on the machine you are running obviously, the latest version of ASC on a Pentium 4 with Windows 7, will most likely cause a bit of drag. New updates on programs are designed for bigger machines rather than old-age ones. An i5/i7/i9 or Razen with enough RAM will hardly notice the program while it does its thing in the background. I also found that it does not interfere with antivirus programs like Avast, but that it does not like others like Malwarebytes much.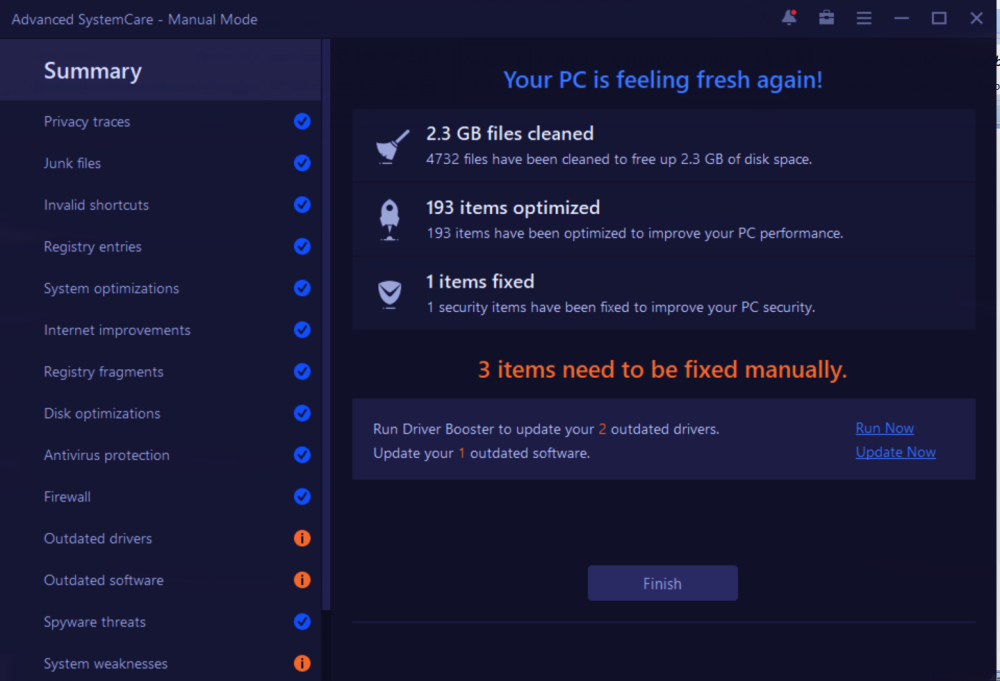 What About Support?
The tech support is available 24 hours a day and you do not have to pay additional for a diagnosis. They also have feedback forms that you can use for queries or suggestions. There is an FAQ section as well that will give you access to questions/queries that have been answered. The website also has a forum section, but I found it not to be busy at all. Overall, their support is great with many options to choose from.
Any Upsales or Advertisements?
When installing Advanced SystemCare, you will be asked if you want to install the Opera web browser, but you do not have to and can simply dismiss it. In addition, you will be asked if you want to sign up for the newsletter, and again, you are not required if you don't want to. The newsletter is helpful tho, with regular giveaways and so forth. The software itself has a small advertisement on the free version but one hardly notices it and it does not come in the way when running a scan.
Advanced SystemCare User Interface
An easy-to-use interface that looks beyond awesome; definitely not "dull looking" like many other programs with its modern tech look. The interface is multi-tabbed and leads to neatly divided sections like the Toolbox, Care, Settings, and Speedup section. Navigation is easy with categories neatly divided in one place.
Their latest feature, the IOBIT AI (Artificial Intelligence) does virtually everything for you, all you have to do is set it up.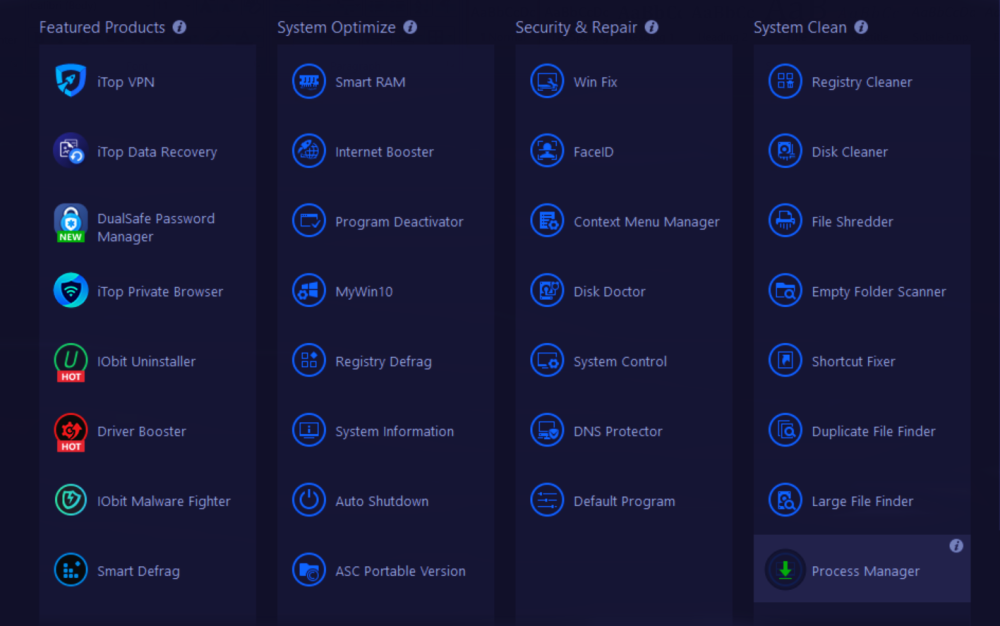 Advanced SystemCare Review – Pros
Easy to install with a clean user interface that is easy to use and navigate.
Protects your digital fingerprints and personal data.
Faster Internet Speed with optimized browser settings to speed up the Internet connection.
Regular updates are easy to install.
Advanced SystemCare clearly marks the options on the free version that is only available for pro users. Some other free programs can be sneaky with those and get you to click on those only to be re-directed to a sales popup that urges you to upgrade.
Technical support that is available 24/7
Single scan to detect all issues.
Settings enable you to configure all the actions.
AI that runs everything, once it has been set up.
Cons
You will most likely need other IObit programs like the uninstaller and driver booster to fully get what you need. It would have been nicer if they merged it completely with a higher price tag.
Advanced SystemCare and Malwarebytes DO NOT mingle well at all. (With my personal experience). Have to uninstall Malwarebytes before installing Advanced SystemCare. This, however, might rather count as a con on the Malwarebytes side, and IOBIT does offer its own, virus protection software.
The AI takes a lot of processing speed to constantly run in the background, so not recommended for smaller PCs.
Conclusion Drawn From Own Experience With Advanced SystemCare
I have been using the program forever and it is usually the first thing I install after a format or new hard drive/PC. The program works well in the background without being a nuisance with constant popup windows that ask you to verify or confirm something. Best of all, it does not interfere with my Avast security and it seems like the two get along great.
I am not the type that has the time or patience to go and perform cleaning tasks manually and my frustration will reach the top peak if a problem persists while I am trying to work. I can honestly say that I solved many problems in the past by just running a full scan with Advanced SystemCare.
When it comes to the additional programs from IOBit… Yeah, a bit frustrating to have them separately instead of merged with the main one, however, Driver Booster and Uninstaller are also great and I use them regularly without problems.
If you have an old machine, the latest version will definitely cause it to drag a bit and you might want to disable some of the features via the settings. Razen and the i3/i7/i9 computers will have no problem running it smoothly.
To sum it up, the Free and Pro version has everything that is required for better PC performance. The free version alone will keep your PC in a "healthy" condition.
Keep in mind that it is only Advanced SystemCare Pro that has the built-in antivirus! With the free version, you will still need added protection.
Advanced SystemCare Review – Key Features
ASC Pro has a multitude of features and it will clutter this post completely if I have to name each one. I will, therefore, list the important ones that are mostly used.
PC Care – Optimize and Clean
Basic cleaning and optimization include; startup optimization, junk file cleaning, shortcut fix, registry defrag, and disk optimization, to only name a few.
Speed Up
This will boost speed for a much quicker startup and response time with Turbo Boost which will stop unnecessary programs. In addition, there is also the option to deep optimize and a Toolbar/App cleaner that will help you get rid of plugins/toolbars that are not necessary.
Protect
Basic Protection for detecting and removing infections and spyware.
Block malicious links and senders in emails.
Surfing Protection and Ad removal.
Capture intruders with FaceID
Digital fingerprint that will keep your online behavior private.
Detect and block security holes.
Please Note: If you want full virus protection, it would be better to purchase IObit Malware Fighter or Advanced System Care Pro instead.
Toolbox
Too many handy tools to mention everything but here are a few important ones (at least for me) that are very useful.
Win Fix (Pro)
Context Menu Manager
Multiple Language Support
The standard version supports well over 20 languages including Japanese, Korean, German, and so forth.
Performance Monitor
This will monitor the key factors that affect your PC performance in real-time. It provides you with some quick-launch options to enhance PC performance.
Settings
Here you can tweak the program to perform the way you want it to by disabling some functions like switching on/off the performance monitor, how you want the program to respond during startup, and so forth. There is literally a setting for everything so you can set up the program according to your own needs.
Other Software Options from IObit
IObit has other software programs that tend to work together with Advanced SystemCare. It is not a must to get them but, recommended if you are looking for something specific and want "more" in that category. The programs include, but are not limited to:
Iobit Uninstaller – Uninstall unnecessary programs to free up more space. A great program that I use A LOT. Removes programs properly by doing a deep scan to remove all the tiny bits that usually gets left behind with the normal uninstall process.
Driver Booster – Updates drivers. 3, 500,00+ drivers that include rare, outdated, and faulty ones. I personally use the program to update my drivers weekly.
Iobit Malware Fighter – Full version that protects against all kinds of malware and prevents ransomware attacks. Compatible with other security software.
Smart Defrag – Optimize games for a better gaming experience. Maximum hard drive performance and higher file access speed.
Do you use Advanced SystemCare or used it in the Past?
Please tell us about your experience and help others make a more informed decision.
Thank You and Have Yourself an Awesome Day!