In today's article, we will discuss the use of WordPress and all its advantages when it comes to creating websites, blogs, e-commerce, and so forth.
So, what is WordPress?
It is a popular and user-friendly tool that helps people create and manage websites. It's like a toolbox for building a website, even if you don't know much about coding or web design.
In a nutshell, WordPress is a simple and versatile tool that lets you build and manage your own website without being a tech guru. It's used by bloggers, businesses, organizations, and many others to create and update their websites with ease. This website that you are on right now is built by WordPress via Wealthy Affiliate Hosting.
Here's a simple breakdown of all the Benefits and features of WordPress:
Website builder – Think of WordPress as a platform that lets you build a website, just like tools to build a house. You can create web pages; and add images, videos, and text without needing to be a computer expert.
Content Management – You can easily add, edit, and remove content on your website, whether you want to write blog posts, share photos, or create product pages, WordPress makes it simple.
User-Friendly – WP is designed for people with different levels of technical skills. You do not need to be a tech or coding expert to use it. If you can use a social media site or word processor, you will most likely manage a WordPress Website just fine.
Templates – It comes with pre-designed templates, also known as themes. These are like blueprints for your website. You can choose a theme that suits your style and then customize it to make it 100% unique. There are thousands of free and premium options available to choose from.

Community – Many people use WordPress, so there are lots of tutorials, forums, and resources available online. If you ever have questions or run into problems, there is a good chance you will find help. In addition, many training and hosting providers like Wealthy Affiliate for example will provide detailed step-by-step tutorials on how to set up WordPress and manage it correctly.
SEO-Friendly – WP has built-in SEO features and numerous SEO plugins that can help improve your website's visibility in the search engines. What is SEO you ask? Search Engine Optimization, or SEO for short, is the process of making your website or online content more attractive to search engines like Google. The goal is to improve your website's chances of appearing at the top of search results when people look for information related to what you offer. This involves using specific techniques and strategies to increase your website's visibility and rank higher in search engine results.
Plugins – WordPress has little add-ons called plugins that you can install to add extra features to your website. It is like adding new tools to your toolbox when you need them. For example, you can add a contact form, an online store, or social media sharing buttons with the help of plugins to further customize your website.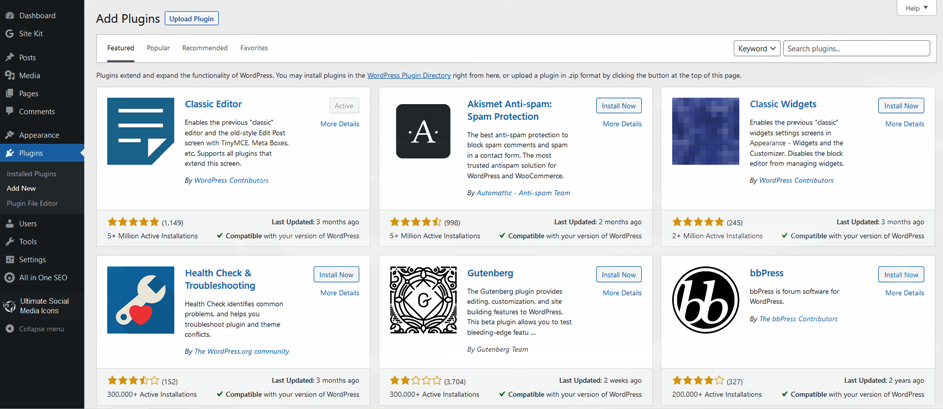 Security and Updates – WP is regularly updated to improve the security, performance, and functionality of your content. Many plugins offer easy backup and restore options to protect your content.
Hosting your WordPress Website – That in itself can be tricky and you need to make sure that you choose the right hosting provider. However, with the popularity of WordPress, nowadays, almost all of the popular hosting providers have WordPress hosting. This makes it super easy to move your website if you do decide that a hosting provider is not filling your needs or if unforeseen problems arise. Websites that are built by other website builders can sometimes be impossible to move, hence why WordPress is nowadays the most popular option around.
Cost-Effective – Many themes and plugins are free or reasonably priced, reducing the cost of website development.
Scalability – WordPress is suitable for both small personal blogs and large, complex websites, making it highly scalable. In fact, it can be used for various types of websites including online stores, blogs, corporate sites, portfolios, forums, and so forth. It can also integrate with a wide range of third-party services, applications, and APIs, enhancing functionality.
Multilingual Support – You can create websites in multiple languages, thanks to plugins like WPML and Polylang.
E-commerce Capabilities – WordPress supports e-commerce through plugins like WooCommerce, allowing you to set up online stores and sell products or services.
Content Management – It's a robust CMS for managing all types of content, including blog posts, pages, images, videos, and more.
Gutenberg Editor – The new block editor provides a more intuitive and flexible way to create content with various blocks, however, if you struggle with this (like me), you can install the classic editor via the plugins to have a more simplistic editor at hand.
Analytics – You can integrate web analytics tools like Google Analytics to track your website's performance and user behavior.
Mobile App – WordPress has a mobile app that allows you to manage your website on the go.
Accessibility – The platform places importance on accessibility standards, making it inclusive and usable for people with disabilities.
Blogging – It started as a blogging platform and remains an excellent choice for bloggers due to its blogging features.
Responsive Design – Many WordPress themes are designed to be mobile-responsive, ensuring that your website looks good on various devices and screen sizes.
Media Management – WordPress provides easy-to-use tools for managing and displaying images, videos, and other media.
Note: 
Keep in mind that while WordPress offers many benefits, it also requires regular maintenance and updates to ensure it runs smoothly and securely. Choosing the right plugins, themes, and hosting is essential for a successful WordPress website.
Well, that is it for today. If you have any questions, please do not hesitate to drop them in the comments. Have experience with WordPress and would like to give your opinion? That would be awesome to hear and there is space for you in the comment section as well.
Have Yourself an Awesome Day!